What is your favourite winter drink? Hot chocolate? Oregon Chai? Or simply a cup of coffee? Most Turks will answer that question with 'Salep', the most popular winter beverage in Turkey. When you see "Salep sold here" signs at the windows of the pastry shops, coffee houses or spot salep vendors in the streets, you know winter is already here.

A cup of salep, garnished with cinnamon by fikirbaz
A herbal medicine as a beverage
Salep, or sometimes called Sahlep (derived from its Arabic origin Sahlab)  is a hot drink made with milk. It also refers to species of wild orchids (Orchis mascula and Orchis militaris). In Turkey these orchids grow in the mountains of the southern regions. The flour produced from the roots of those orchids is used to make the drink.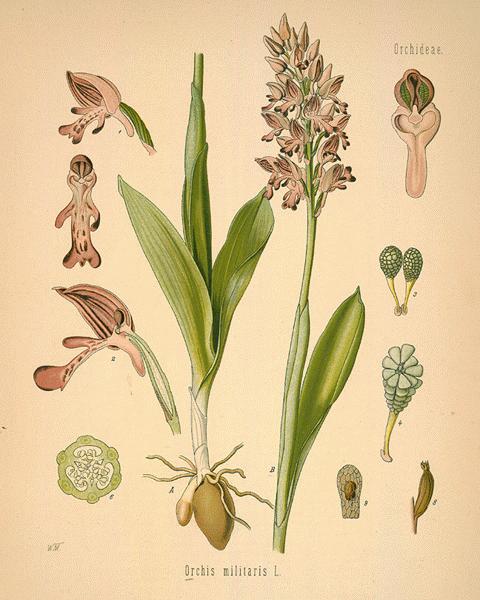 Credit: Missouri botanical garden
According to the related article on Botanical.com Salep orchid was known as a drug to Greeks and Arabs in the 1st Century AD. In the Middle Ages it was also used as herbal medicine.
Thanks to this article, I found out that salep was also popular in England and Germany in 17th – 18th centuries, before coffee and tea. Then it was made with water instead of milk though. The exact date is unknown, when it became a favourite beverage in Ottoman Empire. Salep is popular in Middle East and Greece (where it is called Salepi) as well.
The thicker, the better
Salep beverage is a mixture of salep flour, sugar and milk. The mixture is heated until it becomes thick and creamy. It is said the thicker, the better. Salep is served in porcelain or glass cups to keep it warm. Adding powdered cinnamon on salep is an unwritten rule. Although salep sales start usually in October, it is an ideal winter drink. Salep is also used as medicinal trait for sore throat and colds.
In Turkey, you can taste salep in wide variety of places. Almost in every neighbourhood small pastry shops serve salep. Local coffee house chains like MADO offers almond, hazelnut, caramel etc. flavoured saleps as well. And there are street vendors of course. You can also buy salep powder from shops and prepare it yourself.
The real salep powder is usually sold in Aktar's (herb and spice seller in Turkey) and it is very expensive; 225 Turkish Lira (143 USD) a kilogram!

A salep street vendor in Istanbul by Alexandre Moreau Photography
It can be found in supermarkets both in sachet and ready to drink forms, which are artificial and don't taste like the real thing. Most street vendors sell salep made from cornstarch, which has a similar taste and is cheaper of course.
If you want to enjoy the real taste of salep, it is wiser to buy small amounts of salep (e.g. 50 – 100 grams) from aktar and prepare it at home. That way you can always change the measures to your liking…
Here's my wife's recipe for a delicious salep drink (for 4 persons):
Pour 1 litre cold milk and 1 small cup of sugar into a pot. Heat the mixture and stir it while adding 1 tablespoon salep slowly. Keep stirring until it boils and mixture thickens. Serve warm, don't forget to add powdered cinnamon. Afiyet olsun! (Bon appetit in Turkish)
If you've already booked your trip to Turkey for summer, don't worry! You can still taste salep, in a different form though: famous Turkish Maraş ice cream is also made from salep!
What's the popular winter drink in your part of the World?
Read more:
Mate: a typical infusion from Argentina
When to drink cappuccino in Italy
Breakfast around the world
About the author
Sinan